Prince William hands medals to soldiers back from Helmand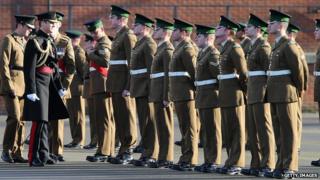 Prince William has presented medals to troops recently returned from Afghanistan.
The Duke of Cambridge gave the soldiers of Two Company, 1st Battalion Irish Guards, their medals during a parade in Aldershot earlier.
The soldiers returned from their first tour of Helmand in October, following a six-month deployment on Operation Herrick.
The duke is colonel of the regiment, which is based at Mons Barracks.
The regiment's role in Afghanistan involved mentoring soldiers from the Afghan National Army.
The Royal Standard was flown at half mast to mark the death of former South African president Nelson Mandela.
After presenting the medals on the parade ground, the duke told the men: "You did your job magnificently, helping the people of Helmand to face their future with greater security and confidence, and you all came home safe and sound.
"This speaks greatly of your professionalism and to your care for one another.
"We are extremely proud of you, and glad beyond words that you are safely home."
The duke also briefly met some of the soldiers and their families.