Southsea South Parade Pier set for community trust sale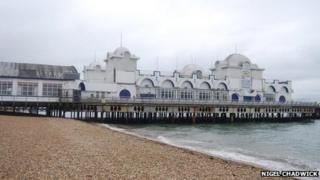 A pier closed to the public over safety concerns is set to be sold, a community trust has claimed.
South Parade Pier in Southsea, near Portsmouth, closed last year and was served with a closure notice last month to "protect the public from danger".
The South Parade Trust (SPT) claim the owners have offered to sell the pier to them, subject to price and contract.
SPT said negotiations are at "an early stage". Owners Dawn Randall and Fred Nash were unavailable for comment.
SPT chairman Leon Reis said discussions have continued with the owners even when negotiations reached loggerheads.
He said: "It's always been clear to us that at some point we would reach this stage.
"A mutual understanding with the owners appeared to be reached a couple of weeks ago and then on Saturday, we received a written offer of sale."
Mr Reis was not prepared to reveal the amount offered.
In December last year, the pier was put up for sale at auction but failed to reach its reserve price of £200,000.
"If we can agree a price, then the pier will belong to the community," added Mr Reis.
"That's what's always been missing from its history and it requires ownership that acts in its best interests.
"I cannot praise the owners enough though for making this offer, as it's a difficult decision to decide to part with something this iconic."
Portsmouth City Council confirmed its closure notice, enforced after the owners indicated plans to reopen in November, remains in force.