Islands swimmer Anna Wardley raises £60,000 for charity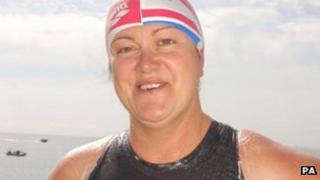 A woman who swam round the Isle of Wight, Portsea, Jersey and Dragonera, off Mallorca, has revealed her efforts raised about £60,000 for charity.
Anna Wardley, from Gosport in Hampshire, swam in aid of the Samaritans, the Ellen MacArthur Cancer Trust and Sail Africa.
She began her challenge in May 2012 and completed her last swim in September.
The 37-year-old revealed the total while giving Portsmouth and East Hampshire Samaritans some of the funds.
Ms Wardley said more than £16,000 of funds raised through her Five Island Swim Challenge had been donated to the Samaritans in memory of her father, Ralph, who took his own life when she was nine.
She said Christmas was the busiest time for the charity "so I'd like to do all I can to raise awareness for their vital service staffed by their team of dedicated volunteers".
Ms Wardley began her challenge on 27 May last year when she swam round the uninhabited island of Dragonera.
This was followed by swims round Portsea Island, on which the city of Portsmouth is built, Jersey and the Isle of Wight.
A fifth swim, round the Isle of Tiree in the Inner Hebrides, was abandoned in August after the cold conditions caused her to have breathing problems and hallucinate.