Blaze breaks out in Portsmouth's naval dockyard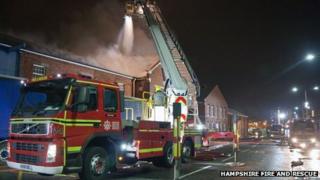 A fire has destroyed an office at Portsmouth's naval dockyard.
Fire crews were called to the base just before 22:00 GMT on Friday following the blaze in the building.
Crews worked overnight to stop the fire - in the roof and first floor - from spreading to other buildings.
The fire happened hours after 500 crew from HMS Illustrious disembarked at the dockyard. A Hampshire Fire and Rescue Service spokeswoman said the events were not connected.
The 23,000-tonne ship arrived back in Portsmouth on Friday afternoon after helping with the relief effort following the typhoon in the Philippines.