Hampshire police's unused Alpha Park HQ sold at a loss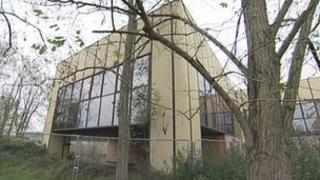 A building that has stood empty for more than five years after being bought as a new headquarters for Hampshire Constabulary has been sold at a loss.
Alpha Park near Eastleigh was bought for £9.6m in 2008 after the force's West Hill headquarters in Winchester was deemed not fit for purpose.
Police and Crime Commissioner Simon Hayes said it had become a "toxic asset".
Hampshire police said it would not confirm the sale price.
After purchasing the building, the force spent £1.8m on Alpha Park, but the estimated overall cost of refurbishing the site was £15.8m.
Police and Crime Commissioner Simon Hayes confirmed it had been sold "at a loss" compared to the purchase price.
'Toxic asset'
Mr Hayes said: "We never expected to get that money [the purchase price] back for it. At the time they paid over the market value for it.
"I needed to get rid of it, we don't want it - it's costing us money - it's a toxic asset.
"We've got the best price and have therefore decided to sell it.
"I'm pleased that we've got rid of it. It was a decision that was made all those years ago by another body so the best thing was to draw a line under it.
"In a time when things are difficult financially it's an opportunity to have a bit of flexibility."
The sale of Alpha Park comes as Hampshire police battles to save £54m by April 2015 due to government spending cuts.
Hampshire Police Federation chairman John Apter has branded the money spent on Alpha Park "disgraceful".
He called it a "soap opera" that had "gone on for far too long and cost the taxpayers of Hampshire and the Isle of Wight far too much money".
A police spokesman said: "An offer has been accepted - the sale is subject to the purchaser completing satisfactory site surveys.
"We are not in a position to release the sale price as this is confidential and we have a confidentiality clause within the contract preventing us from disclosing that price to any third party."