Hampshire police sworn in as Bermuda specials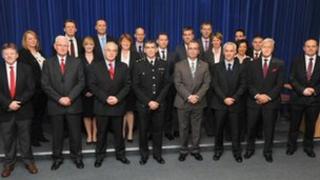 Sixteen Hampshire police officers have been sworn in as special constables for the Bermuda Police Service.
Believed to be a first for UK policing, the move will allow officers to investigate crimes on board Bermuda-registered ships docked in Hampshire ports.
Crimes including rape and murder have previously been reported but UK police have had no powers of arrest on board.
The force said it was a "step forward in international collaboration".
In October 2011, cruise company Cunard announced its three ships - Queen Mary 2 (QM2), Queen Victoria and Queen Elizabeth - would sail under the flag of Bermuda with "Hamilton" replacing "Southampton" on the ships' sterns. P&O cruise ships are also registered to Bermuda.
It has meant a delay in investigating crimes on board as officers have had to fly to the UK.
Hampshire Constabulary said it was looking at making similar arrangements with the Bahamas and British Virgin Islands in future.