Lib Dem quits over Mike Hancock MP sex claims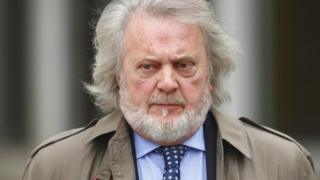 A Liberal Democrat councillor has quit the cabinet in protest at her group's decision to keep Mike Hancock in the council's decision-making body.
Councillor Eleanor Scott resigned her environment and community safety brief on Portsmouth City Council.
Mr Hancock, MP for Portsmouth South, was suspended by the party after a report into claims of sexual misconduct towards a constituent was leaked.
Lib Dem councillors decided on Friday to keep Mr Hancock in the cabinet.
Ms Scott, who remains as a councillor and a Lib Dem party member, said: "We need to run a city, not a game show.
"I hope that others involved in the group's decision on Friday will reflect on their positions, and do the right thing."
The BBC understands a vote among Lib Dem members ended 10-10 with Mr Hancock keeping his job as planning, regeneration and economic development chief because the chairman abstained.
The group said it was also continuing its process of selecting its 2015 parliamentary candidates for Portsmouth along with May's upcoming council elections - both of which Mr Hancock could stand in for re-election.
But he faces being deselected as a Lib Dem due to his current suspension.
Simon Dodd, chair of Portsmouth Lib Dems, said: "The executive regrets the inconclusive nature of the meeting.
"The executive has clearly reconfirmed its belief in natural justice and the right of Mike Hancock to fully respond in due course to the allegations made against him."
Mr Hancock, who has repeatedly denied the claims, is set to face a civil case into the allegations later this year.
A spokesman said: "These matters have twice been looked at by the police, first in 2010, and in conjunction with the CPS, they have found that there is no case for Mr Hancock to answer and have taken no further action."