Matchstick modeller creates flotilla of miniature ships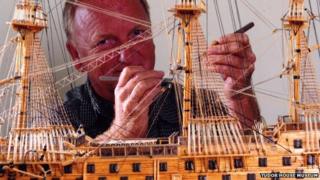 David Reynolds knows a thing or two about making matchstick models.
The retired oil rig worker, from Swaythling in Southampton, has got through about six million matchsticks after taking up the hobby between shifts while working at sea.
Twenty-five years on and almost 30 matchstick ships later, a collection of his work has gone on display in a Southampton museum.
He said he took up the hobby after first trying embroidery to pass time on the rig.
"One Christmas, my son bought me a matchstick kit of a train, then I built an oil rig and it got a bit out of hand."
The replica of the Brent Bravo rig, which he completed in July 2009, broke the Guinness World Records record for the largest matchstick model and used over four million sticks.
After that, he decided to concentrate on ships.
He has completed models of a number of famous vessels, including the ill-fated liner Titanic, Nelson's flagship HMS Victory, salvaged Tudor warship the Mary Rose, and the ocean liners Queen Mary and QE2.
'A little hobby'
Mr Reynolds uses 20kg (44 lbs) boxes of matchsticks, nail clippers, tweezers and glue to create the models, the design of which comes from photographs or, in the case of the Mary Rose, an oil painting.
Each vessel is made up of an average of 40,000 matchsticks and takes around nine months to build, with the biggest ship in his collection, the Titanic, measuring just under 5ft (1.5m) in length.
He said modelling was "just a little hobby".
"I don't think much of it, but our spare room is chock-a-block with them.
"All I ever do is a couple of hours in the evening, I don't do it religiously.
"People watch TV for six or seven hours a night and they've not achieved anything - at least by the end of the week I've got something."
His favourite vessels to build are the classic sail ships, where he uses waxed crochet cotton for the rigging, which is painstakingly pegged to get the tension.
"The most fragile part to make is the anchor," he said
"I bend the matches slowly with a fingernail to make them."
Mr Reynolds, who has also created a replica of the museum housing his collection, added that he was "slowing down a bit now", but had no intention to stop.
"I'm just glad people enjoy them," he said.
The replica fleet of ships will be on show at the Tudor House Museum in Southampton until 7 September.