Southampton Western Docks receives new cranes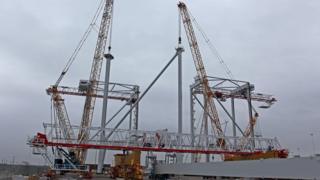 Cranes worth £26m are being rolled into place at a new Southampton quay wall.
The four 1,300-tonne, 126m (413ft) high gantry cranes were assembled at the container terminal and are being moved 150m (492ft) to the Western Docks on remote-controlled trailers.
Port Director Nick Ridehalgh said they would service the next generation of ultra-large container ships.
Each crane was shipped in several parts from Ireland and can reach across ships 24 containers wide.
A fifth is due to be relocated from an existing berth to complete the £150m expansion of the terminal.
Mr Ridehalgh said: "These impressive cranes are a demonstration of our confidence in the future of the port of Southampton and its container operation.
"They will allow us to continue to handle the biggest ships afloat, both now and long into the future, and will keep the container port, which is already the most efficient in Europe, at the forefront of the industry."
In December the Marco Polo, the world's largest container ship, measuring 54m (177ft) wide and 396m (1,299ft) long, visited the docks.