GB synchronised swimming funding cut 'catastrophic'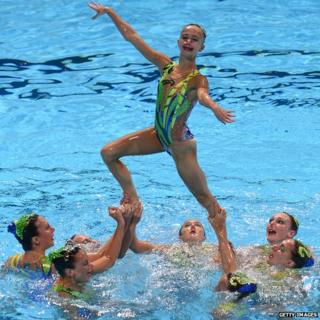 An Olympic synchronised swimmer who represented Team GB in 2012 has described as "catastrophic" a decision to cut all funding to the sport.
Katie Clark said everyone at the Aldershot-based GB team would be "distraught" after the announcement.
UK Sport, which distributes £100m of public funds to improve the nation's Olympic performance, is focusing on sports with greater medal chances.
Ms Clark, who retired last year, said everyone in the sport was "gutted".
Last year the Hampshire-based team was celebrating a 25% increase in funding to £4.3m, having met its London 2012 target of finishing sixth.
However, following an annual review of elite sport funding, all money was withdrawn on Tuesday.
UK Sport chief executive Liz Nicholls said it would be "high risk" to continue funding sports with little chance of winning a medal by 2020.
'100% cut unbelievable'
Ms Clark, along with fellow Olympians Jenna Randall and Olivia Federici, retired from the sport following the 2013 World Championships, leaving a young and inexperienced team in place.
She said it was vital for the future of British synchronised swimming they had a centralised training ground and funding, as synchronised swimmers need to practise between 40 and 45 hours a week, leaving no time for a job.
"I think they would have definitely qualified for Rio and would be looking to get medals in Tokyo," she said.
Adele Carlsen, former GB synchro performance manager, said: "They were expecting a small cut in funding... but to be cut 100% when the sport was actually flying is unbelievable."
Basketball, water polo and weightlifting have also lost their Olympic funding.
The Garrison Sports Centre in Aldershot has been the home of Britain's elite synchronised swimming squad since 2007.