New Forest dog deaths cause remains unknown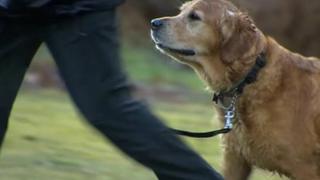 Tests have not yet determined what it was that led to the deaths of four dogs who had been walking in the New Forest.
Veterinary experts say however five dogs in the area have been affected by the condition known as "Alabama Rot" since December.
It brings the total number of dogs affected by the condition in the New Forest since late 2012 to 12.
Cases have also been reported in Surrey, Cornwall, Worcestershire and County Durham.
Alabama Rot, or cutaneous and renal glomerular vasculopathy (CRGV), was first identified in the US in the 1980s.
Initial symptoms can include lesions or wounds on legs, paws and faces.
Over the following two to seven days, dogs develop clinical signs of kidney failure which can include vomiting, reduced appetite and tiredness.
David Walker, from Anderson Moores Veterinary Specialists in Hursley, near Winchester moved to reassure dog owners.
"Although this is concerning and being treated very seriously, it's important to stress these cases represent a very small proportion," he said.
"We have a much better understanding of the condition having conducted tests and looked at samples under the microscope, but we're still not sure what the trigger is.
"We know from diseases in other animals and humans that it can take several months, or even years, to make that breakthrough."
Water testing for hazardous chemicals in the New Forest has also taken place.
New Forest District Council says tests are ongoing and any significant results will be made available.