Flats evacuated as roof rips off in wind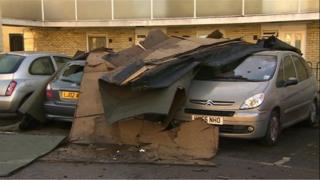 Residents have been evacuated from a block of flats in Southampton after the roof was ripped off by Sunday's storms.
A huge crumpled strip of the roof fell onto cars next to the building in Golden Grove, in the St Mary's area.
Elsewhere, homes in Buckskin, Basingstoke, have been flooded with groundwater. Council workers spent the weekend laying sandbags and helping residents move furniture upstairs.
Some schools have also been forced to close after being surrounded by water.
Cars next to the damaged four-storey council block were damaged as wood, roof felt and skylights crashed down onto the car park below.
Wendy Ring, who lives on the top floor, said: "I was up town when it happened and got a phone call to say, you'd better come back.
"I stayed at a friend's at the weekend but they're going to find out today to see if they can put us in a hotel. Some of the other residents are already in the hotel.
"The same thing happened on the block opposite about eight or nine years ago."
Southampton City Council said a six-yearly rolling survey had flagged up "no cause for concern" about the condition of the flats at Golden Grove.
It said the roof of a different block of flats at Golden Grove had been replaced three years ago, and had no connection to this incident.
On Monday morning, four tankers were deployed to Buckskin to remove water in Grampian Way and Antrim Way.
Basingstoke and Dean Borough Council said portable toilets had been installed for residents who were unable to flush their toilets at home.
Staff, parents and residents spent the weekend trying to get Fordingbridge Junior School ready for the start of the new week but, although they prevented water getting inside, the school remains closed.
There was a similar scene at St Bede Primary School in Winchester, where parents filled hundreds of sandbags to hold the water back from the River Park. It is thought the school will not reopen until at least Wednesday.
About 70 of the county's firefighters have been helping communities deal with flooding, especially those affected in Winchester and Romsey.
They have helped fill and deploy hundreds of sandbags as well as assisting the Environment Agency.