Hampshire Constabulary to cut 535 posts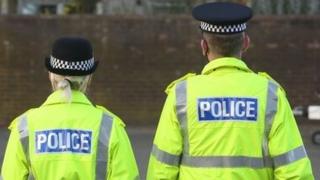 More than 500 job cuts announced by Hampshire police will result in a "critical situation", the head of the county's police federation has warned.
The force confirmed it was "reshaping" its services to deliver a further £25m in savings by 2016.
Chief Constable Andy Marsh described the cuts as "extremely tough".
But John Apter, chairman of Hampshire Police Federation, said: "The people who suffer will be the public... this is a sad day."
Hampshire Constabulary had to save £55m by April due to government spending cuts.
'Piling the pressure'
The projection of 535 job losses constitutes 9.65% of the constabulary's workforce.
It aims to make the required cuts by not replacing people as they leave the organisation, but has not confirmed how many of these will be officers, and how many staff.
Mr Marsh said the savings had been "extremely tough for one of the lowest cost forces in Britain".
He added: "With fewer people, we cannot just keep piling the pressure onto a stretched front line.
"That is why we have fundamentally reviewed what we do, how we do it and what we should not be doing when there is no risk to the public or others are better placed to help.
"We have no choice but to plan for fewer officers and staff, but unlike some other areas of the country, neighbourhood policing will be prioritised with dedicated resource."
'Cut to the bone'
PCSO numbers are expected to remain at 333, and a dedicated superintendent for the Isle of Wight will be appointed.
However, Mr Apter said the cuts were affecting morale, and would have a "dramatic effect" on policing.
He added: "Police officer numbers will be slashed further and the very structure of the force will have to change considerably.
"Response, neighbourhood teams, CID and specialist teams will see their numbers cut to the bone.
"The public should be under no illusion that these further cuts will impact on the service we can deliver.
"The government must stop and take a long hard look at the damage they have done to British policing."