Roman 'sex goblet' comes to Isle of Wight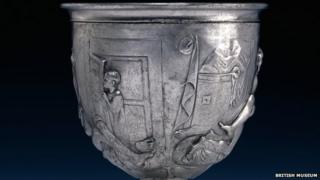 An ancient cup depicting homoerotic sex scenes has come to the Isle of Wight as part of a museum exhibition on Roman sexuality.
The silver goblet is one of 50 items on loan from the British Museum and has an insurance value of £7m.
The British Museum believes the item, known as The Warren Cup, was made in the 1st Century AD.
Brading Roman Villa said it was a "lucky coincidence" its exhibition had opened on Valentine's Day.
The scenes on each side show two pairs of male lovers, one an "erastes" - an older active lover, the other an "eromenos" - a younger passive beloved.
The British Museum said: "The Romans had no concept of, or word for, homosexuality, while in the Greek world the partnering of older men with youths was an accepted element of education."
'Challenging'
It was one of the British Museum's most controversial acquisitions and was not on permanent display until 1999.
Mike Bishop, curator at Brading Roman Villa, said the cup allowed "a glimpse into the private life of Romans, challenging our traditional view of how they lived and loved".
The cup takes its name from its first owner in modern times, art collector Edward Perry Warren.
It featured in the BBC's History of the World in 100 Objects.
The exhibition on the island's Roman site marks the opening of its refurbished museum thanks to a £100,000 grant from various bodies.
Roman Sexuality: Images, Myths & Meanings will be at Brading Roman Villa until 4 May.