Southampton 'deprived estate' demolition starts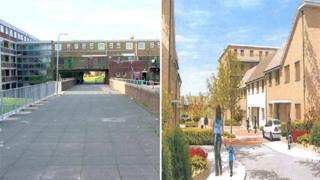 Demolition work has started at an estate in Southampton known as one of the most deprived areas in the city.
The "poor condition" retail units and flats at Weston Lane shopping parade will make way for 70 homes, a new library and three new shops.
Southampton City Council said the £1.3m regeneration would tackle "very high levels of deprivation" and the "continuing issue" of crime.
The development is expected to be completed by 2015.
A consultation questionnaire in 2011 highlighted residents' concerns that the area "had become an eyesore" but also expressed concern that there would be just 30 affordable homes in the scheme - half the number currently available.
The project's urban consultant, Paul Grover, said the viability of the redevelopment relied on sales of the 40 private homes included in the plan.
The shopping precinct demolition has begun and is expected to last a number of weeks.
Southampton City Council's housing cabinet member, Warwick Payne, said the regeneration "should breathe new life into the area" and provide "a big improvement on what was there before".
Building work by Bouygues Development is expected to start in the spring.