Operation Fortress: Drugs valued at £190,000 seized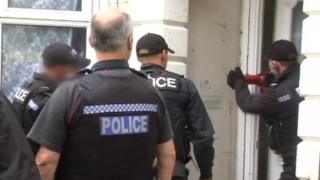 Illegal drugs with a street value of more than £190,000 and numerous guns have been seized in an operation targeting drugs gangs in Southampton.
Operation Fortress was set up by Hampshire Police in May 2012 to tackle gun and knife crime in the city.
By this February it had led to 66 convictions, officers said.
But, as Fortress is rolled out across Hampshire, Det Supt Kath Barnes said the problem of new gangs moving in remained a threat.
She said: "You've got organised crime groups that will always try to thrive in whatever business they're involved in, and illegal drugs is an easy commodity if you're a criminal."
'Get a gun'
One former drug dealer and heroin addict, referred to as Jason, said: "There's a lot of money to be made - it creates a lot of competition between the dealers.
"Once they get established, they rely more on people from Southampton - addicts - to take care of the business.
"They'll coerce them, threaten them, intimidate them. They can take over their flat.
"If you're shifting thousands of pounds' worth of drugs and money about, you need some security. The simplest thing to do is get a gun."
The Bridge drugs advice centre works with police to help addicts suffering violence and intimidation.
Manager Ashley Christopher said dealers pressured addicts into selling drugs.
He said: "They are so fearful of what they've got mixed up in, they can't see the wood for the trees, they can't see a way out.
"What we try to offer them is to say, look, come into treatment, you don't have to lead that lifestyle."
Earlier this month, three drug dealers from London were jailed for the fatal shooting of Jahmel Jones, a rival dealer, at a flat in St Mary's in what police described as a "gang execution".