Middle Wallop crash pilot had 'lack of experience' on plane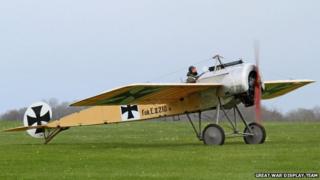 A replica vintage plane crashed and killed its pilot due to his "lack of experience" flying the aircraft, a report has suggested.
John Day, 68, died after the Fokker Eindekker he had recently built crashed at Middle Wallop, Hampshire last year.
Fellow Great War Display Team members called him "among the most experienced pilots of World War I aircraft".
The Air Accidents Investigation Branch (AAIB) report said the absolute cause of the crash remained inconclusive.
'Steep nose-down turn'
Mr Day, a father-of-one, from Horsham, West Sussex, had been one of seven pilots practising a choreographed routine when his plane came down at the Army Aviation Centre on 27 April.
The AAIB report stated an examination of the wreckage could not provide an absolute cause, but that any evidence supported witness accounts of the aircraft going in "a steep nose-down turn to the right" before crashing.
It suggested the issue could have been the operational difficulties of flying this particular type of vintage aircraft.
"The use of the control clamp... could have caused the aircraft to maintain a turn unless the pilot was able to make a deliberate movement to reduce the pitch input," it stated.
"Unless attention was paid to the slip indicator, the aircraft could easily enter sideslip without this being obvious to the pilot."
It went on to conclude: "Flying in a practice air display with other aircraft would have exerted a number of demands on the pilot's attention.
"This would have been exacerbated by the pilot's lack of recency and experience on the aircraft."
In a statement, members of his display team said: "John was a superb aircraft builder, excellent display pilot and a lovely man who will be missed by all in the team."