Blake Fowler 2011 death: Mother and step-father held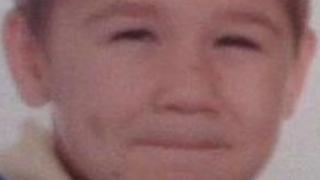 The mother and step-father of a seven-year-old boy are being questioned by police in connection with his death.
Blake Fowler died from a severe head injury in Southampton in 2011.
Blake's step-father, Peter Meek and his brother Philip Meek were arrested on suspicion of murder and causing or allowing the death of a child.
Sarah Spacagna, 28, is being held on suspicion of causing or allowing the death of a child.
Police said the arrests took place in Southampton on Tuesday and followed a reinvestigation of the circumstances leading to Blake's death.
The trio remain in police custody.
Police apologise
Police in Southampton have apologised for the "unsatisfactory" inquiry into Blake's death.
Assistant Chief Constable Laura Nicholson said: "I accept that the initial investigation by the constabulary was unsatisfactory, and for that I apologise.
"We have a full team from the Hampshire Major Investigation Team dedicated to this."
At the inquest into Blake's death the coroner recorded an open verdict.