Plaque for WWI pilot Robert Smith-Barry in Gosport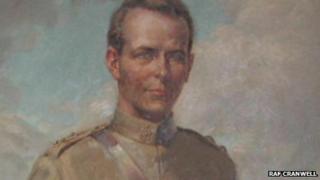 A World War One veteran who revolutionised British flight training during the conflict has been honoured with a blue plaque.
Maj Robert Smith-Barry established a pilot training system which increased the chances of survival.
He also invented the Gosport Tube which allowed the trainer and trainee to communicate via a rubber tube without having to shout across the cockpit.
The plaque was unveiled at the Alverbank Hotel in Gosport, Hampshire.
Gosport Aviation Society organised the commemoration at the hotel which was Smith-Barry's home for a time during the Great War.
Of the 14,000 British pilots killed between 1914 and 1918, 8,000 died during training.
Smith-Barry revolutionised the system and wrote the first flying training manual.
He was described by Lord Trenchard as the "man who taught the air forces of the world to fly" .
In 1912, he earned his wings on the first course held at the Central Flying School, in Upavon, Wiltshire, which is now based at RAF Cranwell in Lincolnshire.
But it was not until December 1916, when he was put in charge of a training squadron in Gosport, that he had the opportunity to put his ideas into practice.
He trained pilots to deal with spins and other potentially dangerous situations.
John Fletcher, curator of HMS Sultan Airfield and Engineering Museums, in Gosport, said prior to Smith-Barry's intervention "everything was wrong with the system".
"There were unqualified instructors, you had different aircraft on different days, different instructors on different days, and there was no communication between the instructor and the pupil," he said.