New Forest anti-cycling posters warn of danger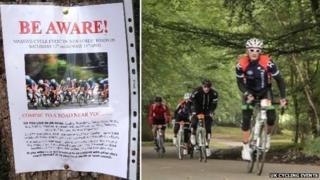 Anti-cycling campaigners have put up posters in the New Forest warning visitors that they may be "at risk as they go about their daily lives".
Posters have been pinned to trees and boards across the park ahead of the Wiggle New Forest Spring Sportive.
Resident Ann Sevier said "strong words" were needed because the park was unsuited to "mass" cycling events.
UK Cycling Events said: "Our focus is delivering a safe, enjoyable cycling event which is considerate to locals."
More than 2,000 cyclists will travel a route up to 84 miles (135km) through the national park on Saturday and Sunday.
The posters read: "Be aware... massive cycle event on New Forest roads.
"This notice is to alert local residents and visitors to the New Forest of the abuse of our tranquil locality and warn that this event could put members of the public at risk as they go about their daily lives."
Ms Sevier, who is on the New Forest commoners association committee, said the posters were not antagonistic.
She added: "The cyclists are the people that have antagonised the residents. We are a democratic society and we have every right to voice our concerns and put up posters.
"The people who come to visit at weekends should not be confronted by - in many cases - ill-mannered and ill-behaved middle-aged men who should know better."
'Curmudgeonly attitudes'
David Harrison, councillor for Totton South and Marchwood at Hampshire County Council, described the posters as "overblown provocation".
Mr Harrison, who is also a member of the New Forest National Park Authority, said: "I think we can accommodate them without too much bother or problems.
"There is a certain constituency within the New Forest who are reluctant to accept any change, are rather curmudgeonly in their attitudes, and are unfortunately out to cause trouble."
New Forest District Council said it did not permit fly-posting.
"We are aware of some people's concern surrounding these types of events and we would ask that they express these through the appropriate channels," a spokesman said.
Hampshire Constabulary said it had recommended that the organisers "minimise nuisance and disruption to local residents".
Chief Inspector Tony Rowlinson said: "Safety of the public is paramount for us, both that of the participants and local people."