Man arrested after Emsworth Sailing Club fire remains in hospital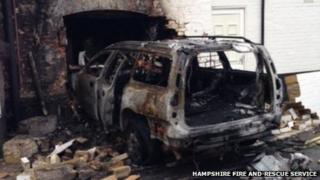 An 82-year-old man arrested on suspicion of arson after allegedly crashing his car into a Hampshire sailing club and setting it on fire remains in hospital.
The green Volvo estate went through the wall of the Emsworth Sailing Club just after 06:30 BST on Tuesday.
Police said no-one in the building was injured in the collision and the subsequent fire.
The club said it expected to remain closed for the rest of the week.
'Very lucky'
The club, which underwent a £350,000 redevelopment last year, posted on its Facebook page: "The clubhouse has now been made structurally secure and boarded up.
"So far, we appear to have been very lucky that the fire doors installed as part of the redevelopment have done their job and prevented the fire spreading too far."
The club, which has around 1,800 members, is believed to be one of the oldest water activity clubs in the country.