Southampton in gridlock over failed road layout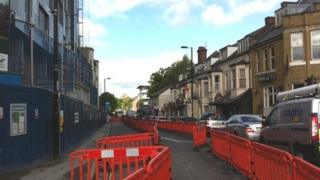 The centre of Southampton was left in gridlock after traffic management plans around a development failed.
Problems on roads surrounding the Mayflower Halls site on Commercial Road started from about 07:30 BST.
Wilson Massie of Southampton Highways Service Partnership said: "The junction changes weren't made last night - this isn't how it was meant to be."
Queues of cars and buses built up with motorists reporting delays of more than an hour on many routes.
Mr Massie said: "We are extremely sorry for the delays this has caused.
"Traffic light sequences at West Park Road onto Havelock Road, should be giving bias to that junction, allowing more time.
"Once the changes are in place we do not expect there to be significant delays for traffic using Commercial Road."
'Major impact'
Buses travelling into the city caught up in the delays had to be diverted and many passengers got off and walked.
Alison Henderson from bus operator, First UK Bus said: "This had a major impact on First's services this morning with vehicles being held in the congestion for up to 25 minutes."
The temporary road layout, estimated to take six weeks, is to enable utility service connections to the development of 1,000 student flats.
One side of Commercial Road adjacent to the development is partially closed.
All inbound traffic along Commercial Road is being diverted via Wyndham Place, Blechynden Terrace and West Park Road.