Cruise liner marks 10 years at sea in Southampton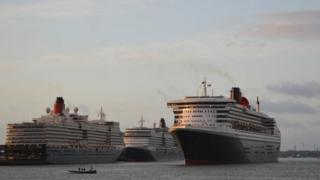 The three ships of the Cunard fleet sailed into Southampton as part of events to mark the 10th anniversary of Queen Mary 2.
The ships sailed into their home port shortly before dawn on Friday followed by a fire-tug with waterjets.
The Duke of Edinburgh boarded the liner for a reception and lunch.
Queen Mary 2, Queen Elizabeth and Queen Victoria left the port again after 20:00 BST. There was then a fireworks display.
Hundreds of people lined the Southampton dockside to watch the three ships and the display.
Spectator map
[262kb]
The Queen performed the naming ceremony for Queen Mary 2 in 2004.
During its 10 years at sea, the liner has completed 419 voyages, including over more than 200 transatlantic crossings.
Earlier in the week the cruise company abandoned plans to release 10,000 balloons from Queen Mary 2 during the celebrations, due to concerns about the impact on wildlife.