Cost for Milford on Sea's beach hut demolition plan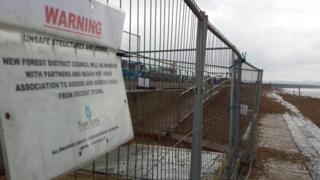 Beach huts in Hampshire that survived the St Valentine's Day storm could be demolished - with owners footing the bill for their replacement.
Many of the 119 privately-owned beach huts at Milford on Sea were destroyed by waves and high winds on 14 February, but about 40 remain intact.
New Forest District Council wants to demolish the remaining huts to allow the entire strip be replaced by 2015.
Some owners say it is unnecessary and will cost them up to £4,000 each.
Milford was one of the areas worst-hit by the storm. About 30 people had to be rescued from the seafront Marine Restaurant after the windows smashed and water poured in.
Of the beach huts that remained, many were deemed dangerous and were demolished. The area, including the surviving huts, remains cordoned off.
Dinah Gibbons, whose hut was unscathed, said: "Quite a few of the people with intact beach huts are definitely against the pull-down and rebuild because there's nothing wrong with their huts.
"Quite a few whose huts were damaged in a minor way would like to repair their huts and get back into them.
"We don't see the need for the whole lot to be taken down."
A council spokeswoman said: "We appreciate that some huts are less damaged than others but, as they're built in terraces, it wouldn't be feasible or safe to allow individual owners to carry out repair works as the whole row of huts has to be considered together."
Colin Holdsworth, whose hut was demolished, said he expected a replacement to cost between £2,000 and £4,000.
He said: "Many owners will be happy if they get new and robust huts that will withstand the weather on the front."
A report recommending demolition costing £150,000, which would be work paid for by the council, will be considered by the authority's cabinet on 4 June.