Plans to be drawn up on future use for Osborne House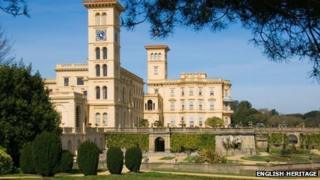 Proposals for the use of a former military convalescence home at Queen Victoria's former palace are to be drawn up over the next 18 months.
English Heritage, which manages the buildings at Osborne House in the Isle of Wight, wants to see the rooms used again.
It said suggestions on how to use the empty rooms were received following a public appeal last year and proposals can still be submitted.
The buildings were closed in 2000.
The Osborne Estate Act 1902 meant the home could only be used to benefit former military officers and senior civil servants but this was repealed in April 2013.
An English Heritage spokeswoman said: "Over the next 12 to 18 months, we will be drawing together a number of proposals for the use of empty rooms at Osborne with the hope of identifying a project that sits well within this iconic property."
Suggestions were received by Isle of Wight MP Andrew Turner, but the details of these have not been revealed.
Queen Victoria's chalet, the Swiss Cottage in the grounds of Osborne House, was reopened after a £1.65m conservation project earlier this year.
The estate at East Cowes was bought by Prince Albert and Queen Victoria in 1845.