Totton council criticised over paddling pool opening.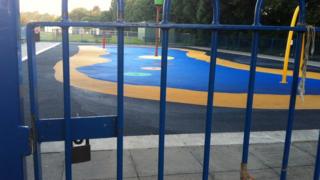 Parents in a Hampshire town have criticised a council decision not to open paddling pools during summer mornings.
More than 400 people have signed an online petition demanding the splash pools in Totton open from 10:00 BST.
Many said they preferred their children using the pools when the sun was less strong.
Totton and Eling Town Council said "current financial constraints" mean opening before 12:45 BST is too costly.
The council said running the town's three paddling pools costs about £30,000 each summer.
'Sympathetic to concerns'
Town clerk Derek Biggs said a decision was made two years ago to only open in afternoons and an extra hour in the evening as demand was heaviest after school hours.
It has already reduced the water depth so the pools could legally operate unsupervised to reduce costs.
He said the authority was "sympathetic" to parents' concerns and the issue would be discussed at a meeting in July.
Councillor David Harrison who set up the petition said: "The town council have used taxpayers money to provide these facilities.
"There is very strong demand, especially when the sun shines. It's one of the precious few things families can enjoy without incurring costs."