Warning to riders after horse trapped in New Forest bog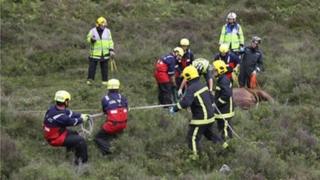 Horse riders in the New Forest have been warned to stick to bridleways after a horse had to be pulled from a bog by firefighters.
The 12-year-old animal lost its footing on uneven terrain and got its legs stuck in the bog during a hack near Ibsley last Wednesday.
Hampshire Fire and Rescue Service said the ground in many areas was still waterlogged after the wet winter.
The horse was pulled to safety and was not injured.
Animal rescue specialist officer Jim Green, said: "It was a laborious job, but the end result was a happy one.
"Our animal rescue team, along with three local crews, were able to free the horse from the bog and move it to higher, firmer ground.
"The horse was then helped to its feet and taken back to the stables by its handler.
"Riders may feel that due to the recent good weather that going across forests and fields will be safe.
"However, given the rainfall experienced earlier this year, many areas are still heavily waterlogged and may be hazardous to horses and their owners."