Portsmouth fundraiser's father's name added to WW2 memorial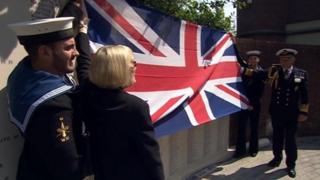 A woman who has spent 25 years campaigning for a World War Two memorial in Portsmouth has seen her own father's name added to it.
Jean Louth, 80, has been fundraising for stone panels in Guildhall Square to remember more than 3,000 people from the city killed during World War Two.
The panel with the name of her own father, Harry Short, was unveiled earlier. He died at Dunkirk in 1940.
Last year the city council pledged £27,000 to complete the project.
Mrs Louth began her campaign in 1989 after realising the city had nothing honouring the 3,436 residents, both service personnel and civilians, who died in the war.
'Never forget them'
She said: "[My father] was a regular soldier so he was one of the first to go and sadly never came back.
"We say we will never forget them, but we will if their names aren't there to be remembered.
"We have to thank the people of Portsmouth who have been brilliant with their donations and their letters, [including] three or four of the big firms in Portsmouth, and there was actually one man - who wanted to remain anonymous - and he actually sent me a personal £9,000 donation."
The memorial was originally unveiled in 2005 by Princess Alexandra and names have gradually been added to the panels in alphabetical order. There are 12 more names to go.
The latest panel, with Harry Short's name on, was unveiled at an Armed Forces Day ceremony in Guildhall Square.
The project has cost £90,000 in total.