Southampton death: Four arrested on suspicion of murder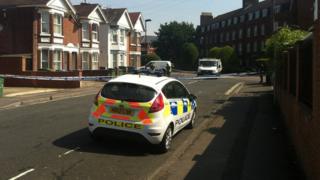 Three men and a woman have been arrested on suspicion of murder following the death of a 70-year-old man in Southampton.
The man collapsed in Morris Road on Monday night and was taken to Southampton General Hospital, where he was pronounced dead.
The three men arrested, aged 35, 43 and 53, and a 69-year-old woman, are currently in custody.
Part of the road is closed while forensic investigations take place.
A post-mortem examination is due to be carried out later.
Resident Khalid Mahmood said: "It's shocking really. I was in the house, I wasn't aware of anything happening until someone knocked on the door at about 10pm and there was police, ambulance, forensics."
Alex Ledward added: "I walk up here from the station on my own, it's scary something like this can happen."