Hope for legacy after Isle of Wight teenager Joe Ellis dies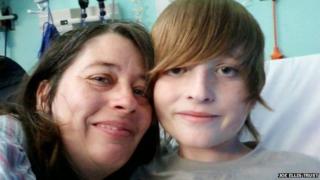 The family of an Isle of Wight teenager who launched an appeal to fund his cancer treatment has pledged to help others affected by the disease.
Joe Ellis, 13, died on Monday, a year after he was diagnosed with primary mediastinal large B-cell lymphoma.
The Joe Ellis Trust, which raised £58,000 for treatment for Joe, said it would be a "wonderful legacy" if other children could be helped.
Schools, community groups and police had all joined in fundraising efforts.
A statement from the trust, which was set up by family and friends, said: "We had a mission to raise the £100,000 for the medication he so vitally needed and we want to continue that mission.
"This would be a wonderful legacy for a family of another small child who find themselves in the unenviable position that the Ellis family found themselves in, when this journey started."