Car driver sought after woman raped in Southampton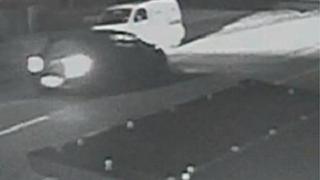 Police hunting for a man who raped a woman in Southampton as she returned from work want to trace the driver of a dark saloon car as a potential witness.
The 29-year-old woman was attacked shortly after 02:15 BST on Wednesday and forced to a wooded area on the corner of Merryoak Road in Bitterne.
She had been on her way back to her car in Cypress Avenue.
Police think the occupants of a car seen driving past may have seen the attacker leaving the area.
The victim was also threatened with a weapon, although she did not see one, police said.
Couple arguing
Officers have been examining CCTV and have been able to pinpoint the time of the attack to a nine-minute window between 02:16 and 02:25.
Shortly after this time, the car can be seen driving past the scene.
Det Insp Jim Park said: "We do not believe that these people have anything to do with the attack, but they may have seen the offender making off from the scene."
Police also want to talk to a man and woman seen nearby at about 02:30 who were said to be having a heated discussion.
Det Insp Park added: "We are very keen to speak to the occupants of the car and the couple stood in Merryoak Road shortly after the incident.
"It's likely these people were unaware that a serious crime was being committed at the time.
"Neither of these people should be concerned about coming forward but I would urge them to make contact as soon as possible as they may have the vital piece of information that we need to identify a suspect."