Isle of Wight ferry car deck collapse injures four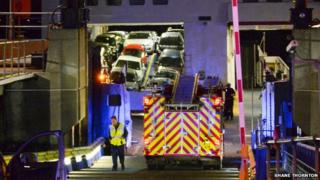 Three passengers and a crew member on an Isle of Wight ferry were taken to hospital after the upper car deck of the ship collapsed.
The mezzanine floor, which was holding nine cars, was being lowered when it dropped about 6ft on to the deck below.
Three people in their cars and a crew member on the upper deck suffered non life-threatening injuries.
Emergency services were called to Fishbourne terminal on the island just before 22:30 BST on Friday.
Those hurt were taken to St Mary's Hospital in Newport, with the crew member later discharged.
A statement from Wightlink Ferries read: "As part of the usual disembarkation process, after vehicles on the lower deck had left the ship, the starboard forward mezzanine deck with nine cars on board was lowered.
"When it was a short distance from the deck below, it dropped a few feet and made contact with the lower deck.
"A full investigation into the incident is under way. It has been reported to the Marine Accident Investigation Branch and Wightlink is fully co-operating with the authorities."
The ship, the St Helen, last underwent an independent engineering inspection in May, the company said.
The vessel sailed from Portsmouth Gunwharf at 21:30 with 181 passengers and 11 crew onboard.
Passengers on another ferry, the St Clare, had to wait for 90 minutes to dock at Fishbourne while the emergency services, which included police, fire crews, coastguards and ambulance service, attended the scene.
John Burrows, chief operating officer at Wightlink, said the St Helen was brought back to Portsmouth and immediately taken out of service.
He said engineers and safety officers had inspected the firm's fleet before they were cleared to sail on Saturday.
Mr Burrows, who said he has never known of any similar incidents, added he was "comfortable and confident" there will be no repeat.