Buckskin flood area 'needs better monitoring'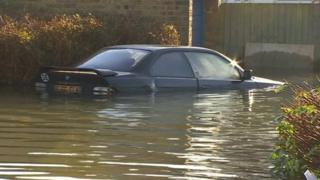 An investigation into the flooding of a housing estate with polluted groundwater has found better monitoring is needed.
More than 80 houses were evacuated in Buckskin, Basingstoke, in February and 77 million litres of water pumped out.
An independent report recommended a review of the drainage system and the "setting up [of] a threshold at which point actions should be taken".
Hampshire County Council said it would act on the findings.
Groundwater in Buckskin began to overwhelm the drainage system on 8 February and the area remained flooded for more than a month.
Many residents had to stay in hotels.
'Exceptional rainfall'
The report from CH2M HILL said: "The flooding appeared to be instigated by high groundwater levels which caused a dormant spring to become active and the surface water drainage, formed of soakaways, not to function.
"This in turn caused runoff to follow the historic river course northeast and accumulate in low lying areas."
It said the drainage system had "limitations" and a review of the multi-agency flood plan was required.
But it described the rainfall during the season as "exceptionally high".
Sean Woodward, executive member for economy, transport and environment at the council, said: "We commissioned this independent investigation to find out about the causes of the flooding problems in Buckskin and what corrective or improvement actions might be required to help mitigate the risk in the future.
"Now we have the results of the investigation, we will continue to work closely with our partners including Basingstoke and Deane Borough Council, the Environment Agency and Thames Water to determine what actions can be prioritised immediately and what additional steps need to be taken."
The council has bid for government grants to invest in more flood defences for the area.
It will find out in the Autumn if it has been successful.