MP meets Vince Cable over Fair Oak's 'last bank' closure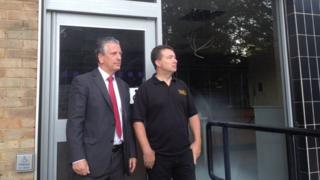 A Hampshire MP has met with Business Secretary Vince Cable to discuss the closure of the last remaining bank in a village.
Residents and businesses in Fair Oak, near Eastleigh, battled to save their NatWest branch, which shut this month.
Despite gathering a petition of 1,100 signatures, they were told by bank officials the decision had been made and the bank would shut on 9 July.
Mike Thornton, MP for Eastleigh, urged fellow MP Mr Cable to help villagers.
He asked Mr Cable to do what he could to address the situation.
Drop in visitors
"Three years ago NatWest pledged they would 'continue to provide banking services wherever they were the last bank in town'," Mr Thornton said.
"Yet in Fair Oak they are closing the final bank in the village.
"Residents have every right to be disappointed at the attitude of the bank.
"NatWest should have reviewed the decision to see if they could improve business at the branch to make it financially viable."
Taxpayer-backed Royal Bank of Scotland (RBS), which owns NatWest, said "the world had changed" since that pledge in 2010 and there had been a 30% fall in branch transactions over the last four years.
The Fair Oak branch is open three days a week and the the number of customers visiting the bank has dropped 23% in that time - with fewer than 8% of them currently visiting each week.
RBS said the next nearest branch available was just over two miles (3.2km) away in Eastleigh.