Wood chips on fire in Eversley storage yard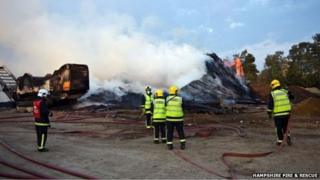 More than 500 tonnes of wood chips and logs caught fire at a storage yard in Hampshire.
Crews were called to the site in Brickhouse Hill, Eversley, near Fleet, in the early hours where a wood chipping machine was on fire.
The site was being used to store aggregates and forestry materials, the fire service said.
Firefighters from both Hampshire and Berkshire's fire services were called at about 03:40 BST.
The flames were extinguished by 11:20 BST.
At the height of the blaze there were 50 firefighters, along with four pumps and three water carriers.
Earth movers and bulldozers were also used.
Hampshire Fire and Rescue said the wood chipping machine was destroyed.