Winchester's poppy tribute to fallen servicemen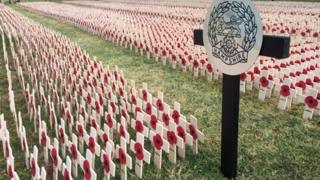 A remembrance field dedicated to the 10,000 soldiers of the Royal Hampshire Regiment who died in both world wars has opened in Winchester.
The field in the garden at Serle's House Museum has been created as a temporary site to honour the memory of those who gave their lives.
The 10,000 crosses were planted in the ground by the Hampshire and Isle of Wight Army Cadet Force.
The crosses will remain in the garden until mid-September.
Lt Col Colin Bulleid, of The Royal Hampshire Regiment Trust, said: "The Field of Remembrance will be a fitting tribute and commemoration to those members of the Regiment who gave their lives."
During World War One the regiment lost 8,023 soldiers and 2,149 during World War Two.