Isle of Wight ferry out of action after river engine trouble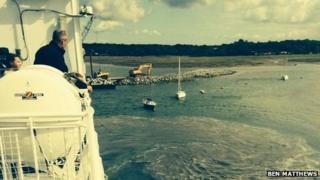 Cross Solent ferry services are being disrupted after a vessel suffered engine trouble on a Hampshire river.
Wightlink's Wight Sun was taken out of service for repairs after making "light contact" with a navigation post and small boat on the Lymington River on Sunday morning.
The company blamed it on a failed forward propulsion unit.
Four sailings between Yarmouth and Lymington on Monday have been cancelled.
The company said Wight Sun "lost manoeuvrability" and came close to, but did not strike, a barge containing rocks for breakwater work.
It was helped by the Harbour Master's motor launch and was able to continue to Yarmouth before being taken out of service.
It comes a fortnight after a ferry on the company's Portsmouth-Fishbourne route was removed from service after its upper car deck collapsed.