Southampton couple die in India coach crash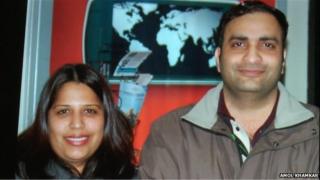 Tributes have been paid to a Southampton couple who died in a coach crash while on holiday in India.
Roopesh and Kavita Nawarkhele, from Bitterne, were travelling to visit family and friends when the crash happened on Saturday in the Punjab region.
Their nine-year-old daughter, Ananya, is in hospital with serious injuries.
Mr and Mrs Nawarkhele were described as being "very active" in the local community.
Mr Nawarkhele worked for Southampton City Council's children's services.
Family friend Amol Khamkar said: "They were a lively family, who loved life and were very family-centric. They were committed and dedicated to their only daughter Ananya."
He described the couple as being like family to him.
'Outstanding social worker'
He said: "They were active in different arenas of life. They were active in the Hindu temple, Kavita was an active member of a community radio station.
"Both of them were also active in the parent teacher association in Ananya's school and within their friendship circles."
The council's City of Arms flag outside Southampton Civic Centre has been lowered as a mark of respect to Mr Nawarkhele and his family.
Chief executive Dawn Baxendale said: "Roopesh was a much-loved and highly-respected member of our children's services team.
"His dedication and commitment to the children in the city was second to none. Both he and his wife were actively involved with a number of community groups in the city.
"Our team has lost an outstanding social worker and our thoughts remain with the couple's daughter and their family."