Portsmouth yard bids farewell to final ship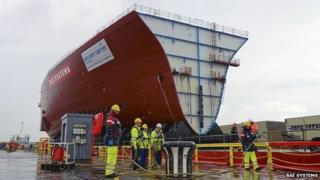 The hull section of a ship has left the historical dockyard at Portsmouth, marking the end of shipbuilding there.
The 6,000 tonne forward hull of the aircraft carrier HMS Prince of Wales is on its way to Scotland.
BAE Systems, which runs the yard, announced its closure last year. Hundreds of workers have already taken voluntary redundancy.
In November, it was announced that 940 posts and 170 agency staff would go at the shipbuilding facility.
About 470 workers have taken voluntary redundancy and there have been 75 compulsory redundancies.
The hull section, which is more than 20m high, 70m long and 40m wide, has embarked on its five-day journey to Rosyth in Scotland.
After the Queen Elizabeth Class aircraft carrier is completed, it will return to Portsmouth.