Penelope Davis murder: Police search river for weapon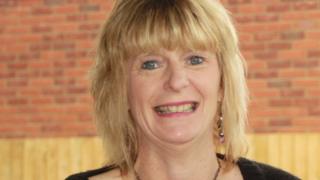 Police have been searching a river for the weapon used to stab a mother of five to death in the New Forest.
Penelope Davis, 47, known as Pennie, was tending to her horses when she was attacked.
Her body was found on Tuesday afternoon in a paddock near Leygreen Farm in Beaulieu by her husband.
Officers from Hampshire Constabulary carried out a fingertip search of the field and sniffer dogs have been used to search the riverbank.
On Thursday police searched a nearby farmhouse.
Det Supt Paul Barton said: "We believe the weapon used was a bladed item, possibly a knife, and that it would have most likely been discarded close to the scene.
"Our officers have been working round the clock following up on a number of enquiries... We've had a fantastic response, receiving more than 150 calls since yesterday."
He said Pennie's death had "come as a shock" to the community.
Police said a post-mortem examination had revealed the cause of death was multiple stab wounds and there was "no obvious suspect".
About a dozen members of Mrs Davis family have visited the farm to lay flowers by the entrance to the field.
Mrs Davis, from Blackfield, worked in a local supermarket and visited the field daily to tend to her horses.
Officers have put up posters along the Lyndhurst Road, running near the field where the body was found, appealing for anyone with information to contact them.
Police said there was no evidence Pennie's horse Sprattley had been harmed, or any other horses nearby.