South Parade Pier gets £10k Heritage Lottery Fund grant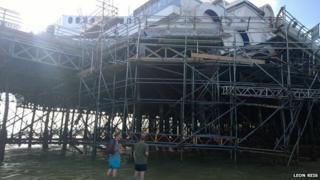 A trust hoping to restore Hampshire's last Victorian pier has been awarded £10,000 by the Heritage Lottery Fund.
South Parade Pier in Portsmouth has been closed since 2012.
South Parade Trust said the money from the start-up grant would be used for a business plan with the ultimate aim of buying and restoring the pier.
A trust spokesman said: "We want the pier to be a great regional tourist attraction again - and a local community and charitable hub."
The 139-year-old venue was closed following safety concerns.
The trust said it would now tender for leisure industry experts to provide specialist commercial advice.
Leon Reis, chairman of the trust said: "This is essential for gaining the millions of pounds of investment and grants we will need to buy, rebuild and redevelop the pier."
The group estimates the full project would cost between £5m and £10m.
The first South Parade Pier opened in 1879, but it was destroyed by a fire in 1904 and rebuilt in 1908.
In 1974 it was again wrecked by fire during the filming of the Ken Russell movie Tommy and part of the superstructure had to be rebuilt.