Southsea cannabis picnic will 'help raise awareness'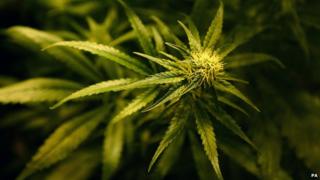 Organisers of a cannabis picnic say the event will help to raise awareness of the drug.
The picnic in Southsea on Saturday has been organised by Hampshire Cannabis Community.
The group, which believes the class B drug should be legalised, said many people were unaware it can be used for medicinal purposes.
Police have warned they will not tolerate the use of illegal drugs at the picnic.
'Like peanuts'
Charities have also warned about the dangers of promoting drugs.
Mark Winstanley, chief executive of Rethink Mental Illness, said: "Cannabis is a bit like peanuts - some people react very strongly, some not at all.
"What is certain is that smoking cannabis is like playing a game of Russian roulette with your mental health."
But Simon Dignam, from Hampshire Cannabis Community, said of the picnic: "It is just to get an awareness of cannabis out there, especially for medical conditions.
"About 29 countries around the world have made it legal for medicinal use. So it can't be 'this might work' - it does work."
Saturday's picnic in Castle Field will feature information stalls and speakers including MS-sufferer Clark French. He founded United Patients Alliance, which aims to advance legal access to cannabis for therapeutic use.
Insp Louise Tester, from Hampshire Police, said Safer Neighbourhood officers would be attending the event.
She said: "While everyone has the right to make a peaceful protest, Hampshire Police will not tolerate the use of illegal drugs and any drug use or possession will be dealt with."