Southampton venues to be charged a late-night levy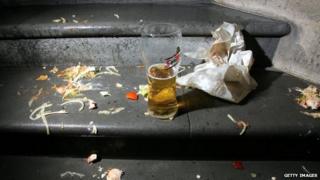 Bars and clubs in Southampton will be charged a late-night levy to cover city centre clean-ups and policing costs, following a council vote.
Venues that serve alcohol after midnight will be charged between £299 and £4,440 per year.
Southampton City Council claims the scheme will cut anti-social behaviour and offset the costs of policing and support services.
JD Wetherspoons which operates two city centre venues called the move "unfair".
A spokeswoman for the council said the levy would "keep Southampton a safe and enjoyable place late at night".
Businesses will face charges based on the rateable value of their premises. It is thought the average charge will be about £1,000 per year.
'Extra tax'
Some 70% of the funds raised will go to the police and 30% will go to the local authority, with late-night support services like the ICE bus, taxi marshals and street pastors set to benefit.
Eddie Gershon of JD Wetherspoons called the levy an "unfair tax".
"Pubs are well run and its an extra tax which does not apply to supermarkets and off licences where people are buying drinks in less controlled environments," he said.
He added the company had yet decide whether move its closing times to before midnight to avoid the charges.
A handful of local authorities across the country, including Cheltenham and Newcastle, have so far adopted it.
Nearby Portsmouth City Council said it had no plans to introduce a levy and a spokesman for Bournemouth Borough Council said the financial gain would be "too small to warrant the cost and effort for a town this size".