Fareham Borough Council plans Solent Enterprise Zone land transfer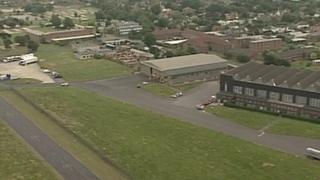 Ownership of part of a former Royal Navy airfield now being used as a business enterprise zone is to be transferred to the local council.
The Solent Enterprise Zone in Lee-on-Solent is one of 24 sites around the country at which businesses are offered incentives to set up.
Fareham Borough Council voted to take it over from the Homes and Communities Agency and invest £10m to boost growth.
Opposition councillors said it could expose the authority to financial risk.
Leader of the Conservative-run council Sean Woodward said the authority would borrow to improve infrastructure to attract advanced aviation and maritime engineering businesses on the western side of the site.
Plans include building new hangars and resurfacing the airstrip in order to create 700 jobs, a council report states.
'Prudential borrowing'
In 2011, the former airfield, which was operational as HMS Daedalus until 1996, was named as one of the locations for the government's new "enterprise zones".
The eastern side has seen investment, including the £5.3m Daedalus Innovation Centre, but the council said the western side had "poor prospects" without investment in infrastructure.
Mr Woodward said: "We are committed to see aviation continue and for high quality jobs to come in to the area - we have the biggest incentive to really make this work.
He said while no council funds would be spent on acquiring about 80% of the site from the government agency, "prudential borrowing" would allow the authority to invest £10m.
Lib Dem group leader Paul Whittle said the council was undertaking a "substantial investment".
"What is lagging behind is the business and entrepreneurship development on the site and I'm seriously concerned that Fareham could be looking to underpin that and exposing itself in the event it doesn't take off in the future," he said.
Councillors recommended to approve the plans subject to the condition of a call-in period, which means the decision can be challenged until 17 October.