Portsmouth-Isle of Wight passenger ferry plan 'on track'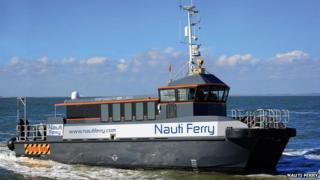 A planned 24-hour cross-Solent ferry service is still set to go ahead, the businessman behind the plan has said.
Charter company owner Paul Duffield had intended to start the first round-the-clock passenger service between Portsmouth and Cowes on the Isle of Wight, in the summer.
He said the delay was down to berthing negotiations and meeting Maritime and Coastguard Agency (MCA) regulations.
He now plans to use two 40-seat boats instead of 18-seat craft.
Mr Duffield insisted the project remained financially viable with "substantial backing" from wind farm servicing company CWind and a £50,000 grant from the Solent Local Enterprise Partnership.
Wightlink and Hovertravel currently run passenger services between Portsmouth and Ryde, with RedFunnel's RedJet operating between Southampton and Cowes.
Mr Duffield, who current runs Nauti Charters, believes a business model of running small boats at close-to-full capacity can be more profitable than the large craft used by established carriers that use more fuel and frequently sail under capacity.
Initial plans are for an hourly service of the 35-minute crossing. Mr Duffield said he intended to adopt a 24-hour timetable after the skippers become familiar with the route.
"There has been a raft of issues crop up to delay the project but we are fighting through them to ensure the service happens.
"We are continuing to try and get this going just as soon as we can even though the red tape is proving almost endless," he said.
Mr Duffield intends to use converted cTruk catamarans, formerly used to service offshore windfarms.
Earlier this month, the Department for Transport announced a review of Isle of Wight ferry services following a debate in Parliament in which MP Andrew Turner described passengers as "suffering from over-inflated prices and cuts".