Ashya King family cash request rejected by charity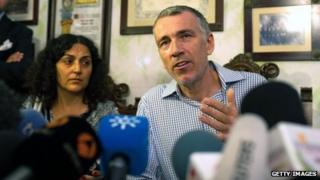 A charity that received £50,000 in donations to pay for care for brain tumour patient Ashya King has said it will not give any money to his family.
Kids'n'Cancer UK said as the NHS had now agreed to fund treatment, and the Kings had made money from the media and online appeals, it would spend the cash on other children.
Ashya's case hit the headlines when he was taken from hospital in August.
His brother has criticised the charity for not paying the family's legal fees.
However, Kids'n'Cancer said it could not legally give money to meet such costs.
'Refusing to help'
Ashya's parents Brett and Naghemeh King, from Southsea, removed their five-year-old son from Southampton General Hospital on 28 August after disagreeing with doctors about his treatment.
They were later arrested in Spain under a European arrest warrant, which sparked an international outcry.
Kids'n'Cancer UK said about £50,000 was raised in the days following the Kings' arrest when it offered to underwrite and pay for proton therapy treatment.
Chief executive of the Chesterfield-based charity Mike Hyman said he had spoken to two of the largest donors who were happy for their money, totalling £15,000, to be put towards the charity's work in helping other sick children.
In a statement he said the family had raised substantial amounts online, as well as from a deal with a national newspaper.
"The Kings asked us to pay their legal expenses, which we cannot legally do.
"There has obviously been a significant amount of money raised and I reiterate that Kids'n'Cancer were prepared to underwrite £100,000 to pay for Ashya King's treatment.
"There are many families who are not as fortunate with the fundraising as the Kings. We always try to make a difference and the money will be used to assist other sick children."
Naveed King, who has been posting on social media since his brother was taken from hospital, wrote: "We have asked Kids N Cancer to support us with paying for the legal fees involving the custody and the release of my parents from prison as well as living expenses whilst we are in Prague.
"Kids N Cancer came back with a reply saying that they were not willing to help us, they said we are greedy asking for help... Kids N Cancer have never given us any money and they are refusing to help us now."
Ashya had major surgery to remove a brain tumour on 24 July and a further operation on his brain on 22 August.
His parents wanted him to have proton beam therapy, which was not recommended by the doctors caring for him at Southampton General Hospital.
After removing Ashya from the hospital, the Kings were arrested in Spain and spent several days away from their son, being reunited with him after the Crown Prosecution Service withdrew a European arrest warrant.
The family was flown by private jet to Prague for Ashya to have the proton beam therapy at a Czech clinic.
On 26 September the NHS agreed to fund the treatment, saying it was "clearly best" Ashya continued to be treated "uninterrupted".