New Forest ponies round-up hit by disease outbreak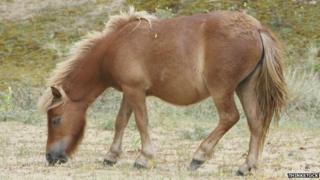 Almost a third of drifts to round up ponies in the New Forest have been cancelled this year as a contagious disease continues to spread.
Strangles, a respiratory disease which affects horses, is seen in the national park every few years.
This outbreak is lasting longer than usual and Sue Westwood, clerk to the Verderers of the New Forest, said it had caused disruption.
Six ponies have died so far and sales and drifts have been cancelled.
Disease 'jumped'
Ms Westwood said of the drifts, when ponies are rounded up to check their health: "We have cancelled 11 out of 34 that we planned to hold this year.
"It has been a little bit unusual this year as normally we will find one pony with it, then it will fan out from there.
"It has gone on for quite a long time, it has jumped from one area to another."
The Verderers had planned two more drifts this year but both have been cancelled due to the disease.
According to the clerk there are between 4,000 and 5,000 ponies in the New Forest.
She said this outbreak was worse than usual as it has affected the Shetland ponies, which seem to be more likely to die if they contract the disease.
She said: "It is a wretched nuisance, it is very unpleasant for the ponies who get it."
Blackfield, Wilverley and Brockenhurst have been particularly badly affected over the course of the outbreak, which started in spring this year.
It is common for outbreaks to be over in six to eight weeks.
The New Forest Livestock Society cancelled a sale on 22 October and another is scheduled to take place on Thursday 27 November.
---
What is strangles?
Strangles is a highly infectious, debilitating disease caused by bacteria
It is spread through direct contact between horses and contaminated food or drinking vessels
Animals affected experience difficulty swallowing, nasal discharge and swelling of the lymph nodes under the jaw
Abscesses can place pressure on the airways causing the horse to suffocate, hence the term strangles
Horses can die if abscesses rupture in lymph nodes in the brain, lungs or intestines, but this is rare
Animals can remain carriers of the disease for months or years without showing symptoms
Source: Celtic Equine Vets in Lyndhurst
---