Fishermen's fears over Portsmouth and Langstone oyster ban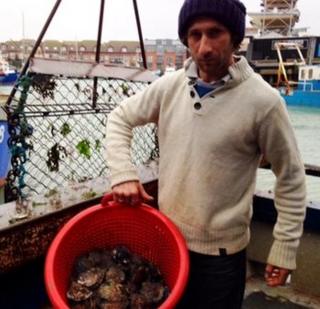 Fishermen claim they will struggle financially after shellfish beds on the Hampshire coast were closed following concerns over E. coli contamination.
The Southern Inshore Fisheries and Conservation Authority has announced a closure of the Langstone and Portsmouth beds until the season's end, in March.
Fisherman Ben Weeks said the closure, from Saturday, was "a real blow".
Portsmouth City Council said it would improve communications between agencies and fishermen.
The local shellfish industry is worth £500,000 a year with about 50 locally registered vessels losing businesses, the council said.
The Food Standards Agency, which ensures official controls of harvesting are carried out in accordance with European law, said the closure was put in place when levels of contamination exceed the required criteria.
A spokesman said the agency was not in a position to speculate what had caused the E. coli contamination.
'Really struggling'
Mr Weeks said in previous months he could expect to catch up to eight 30kg baskets of oysters in a day at Langstone Harbour, which would fetch £3.50 a kilogramme.
"We're just not catching what we should be and we're not allowed to go to areas were there are oysters so we can't earn a bit of cash - we're really struggling," he said.
"Obviously, you can't be eating stuff that's not healthy, but our product does go through purification tanks and there's never been a problem with it before."
A council spokesman said its Shellfish Local Action Plan, which was approved by the council on Friday, would introduce a "straightforward communication process" to fishermen from the various agencies involved in decision-making over closing shellfish beds.
Public Health England says most strains of E. coli are harmless and occur naturally in the intestines of humans and other animals.
But some variants, such as E. coli O157, can cause food poisoning or other problems such as urinary tract infections.