HMS M33 to play a key role in UK Gallipoli commemorations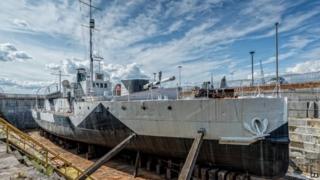 The only surviving ship from the World War One Gallipoli campaign will play a key role in next year's centenary commemorations of the campaign.
Monitor ship HMS M33 sits in Portsmouth Historic Dockyard and is currently undergoing a £2.4m restoration.
The Government announced the opening of the ship on 6 August will be one of three events, the others being in Turkey and at the Cenotaph in London.
More than 100,000 lives were lost in the Gallipoli campaign in 1915-16.
Defence Minister Lord Astor said: "The ceremonies planned for the centenary of Gallipoli provide an opportunity for us to reflect on the bravery and sacrifice of those who left their homes to fight far away from the Western Front, at sea, on land and in the air over what is now modern-day Turkey."
M33 project director Matthew Sheldon said: "HMS M33 is a small ship but has a big history.
"Finally, we'll be able to share the story of her part in the Gallipoli Campaign, and reveal what it was like for the 72 crew who were crammed on board."