Fossilised shark remains found on Isle of Wight go on show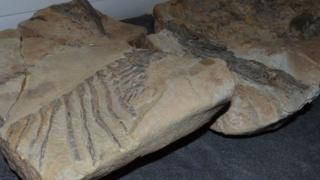 Rare fossilised remains of a prehistoric shark discovered on the Isle of Wight have gone on display.
The skeletal remains of the freshwater shark, dating from the Early Cretaceous period, were unearthed at Yaverland and given to the Dinosaur Isle museum.
It is thought to be the first time such intact pieces of cartilage, fin and skull have been found on the island.
Portsmouth University's Dr Steve Sweetman called it a "unique, remarkable specimen".
The shark, a genus known as Egertonodus, could have grown up to 2m (6.5ft) in length.
It was discovered, in sections, near the top of a fine mudstone strata known as the Vectis Formation, exposed near Sandown.
The creature inhabited a lagoon at the eastern end of what is now the Isle of Wight about 125 million years ago.
Dr Sweetman described it as the "top predator in its environment".
"Isolated teeth and spines of this shark are common, but the discovery of a skeleton is unique.
"Sharks do not have bony skeletons but instead have skeletons made of cartilage. Like other 'soft tissue' this usually rots away or is consumed before there is any chance of it becoming fossilized," he added.
He said it was likely the carcass sank to the bottom of the lagoon where low oxygen levels and minerals including siderite (iron carbonate) would have later cemented the mud and the skeleton.
The first piece of the shark's skull was found in 2013 by amateur fossil hunter Kai Bailey after a low spring tide.
More of the skeleton was discovered by a family during a holiday visit to the island earlier this year.
Mr Bailey said: "It was about two foot away sat upright and I just picked it up,
"I knew straight away you don't normally get anything like the soft tissue - it was quite a treat".
Alex Peaker of Dinosaur Isle said the find had "international importance".
"To see anything other than the bone part of the fin and the occasional skull is incredibly rare. The cartilage of the pectoral fin and ribs is spectacular," he added,